OUR MALTING PLANT
Our desire to be self-sufficient, while being able to control the supply and quality of our basic raw material were the primary reasons which led us to establish our very own Malting Plant.

Phase one of our σtate-of-the-art Malting Plant was completed in 2014, while Phase Two which doubled our production capacity, was completed in 2017. Greece's first Greek owned malting facility and one of the world's most technologically advanced, supplies our Thracian Malt to dozens of independent breweries throughout Greece and the Eastern Mediterranean.

Using only water and barley without any additives or plant hormones, under strictly controlled temperature, humidity and ventilation conditions, our Thracian Malt is the ideal choice for all the breweries that strictly adhere to the traditional German Purity Law (Reinheitsgebot).

Thus, using the latest technological advances, we manage to provide "bespoke" solutions for our customers, while offering competitive prices and the very best quality, investing in long-term and mutually beneficial relationships with all our customers.

In addition, the strategic position of our facilities at the center of the cultivable land of Eastern Macedonia and Thrace (25,000 acres for 2018) and the saving of energy and water at all stages of production, enabled us to reduce CO2 emissions, reduct inputs and minimize the environmental contaminant residuals in Thracian Malt, through the implementation of integrated management systems (Agro 2.1, 2.2).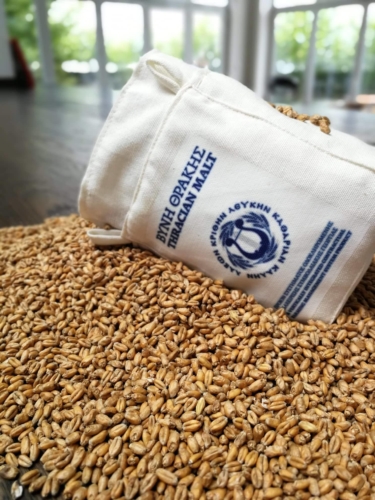 THRACIAN MALT
Our aim to create a 100% authentic Greek beer that will be brewed in our country by a company of Greek interests based in Greece and made with Greek raw materials, has been achieved to the maximum with the verticalization of production and the creation of our Thracian Malt. Thracian Malt is the soul of VERGINA beer, as it gives its characteristic body and special tasty character to our beers.
Macedonian Thrace Brewery introduced the concept of the contractual farming of malting barley to Greece in 2006. Since then, we have managed not only to cover our own needs in malting barley, but also supply 90% of Greece's independent brewers with our premium quality, Greek-grown Thracian Malt. At the same time, over the last four years, we have begun the transformation of Greece into a net exporter of malt, with dozens of satisfied clients throughout the Balkans and the Eastern Mediterranean. , already exporting to several countries, such as Israel, Cyprus, Turkey, Bulgaria, Albania and elsewhere.

We implement high standards of integrated, environmentally friendly agricultural production management (Agro 2.1, 2.2) and we have specialized personnel overseeing every stage of the production process, from the field to the final customer. We offer a wide and constantly growing range of malts, while maintaining our strict quality standards, and securing the best possible prices for our customers and our contractual farmers.

Thracian Malt, from varieties of two-row barley, through the strict production criteria and its excellent quality, has managed to be the first choice for both Greek and foreign brewers, offering a wide range of malts, which are constantly enriched with new options, always maintaining its standard principles, with respect for the customer and the producer.