3 new prizes for Vergina Beer at the Concours International de Lyon 2023!! Gold award for our Vergina Lager!
Once again, we are proud of the new distinctions in the global competition Concours International de Lyon 2023, highlighting once again our love and passion, high technological training and dedication, for the production of the best Greek beer in the world.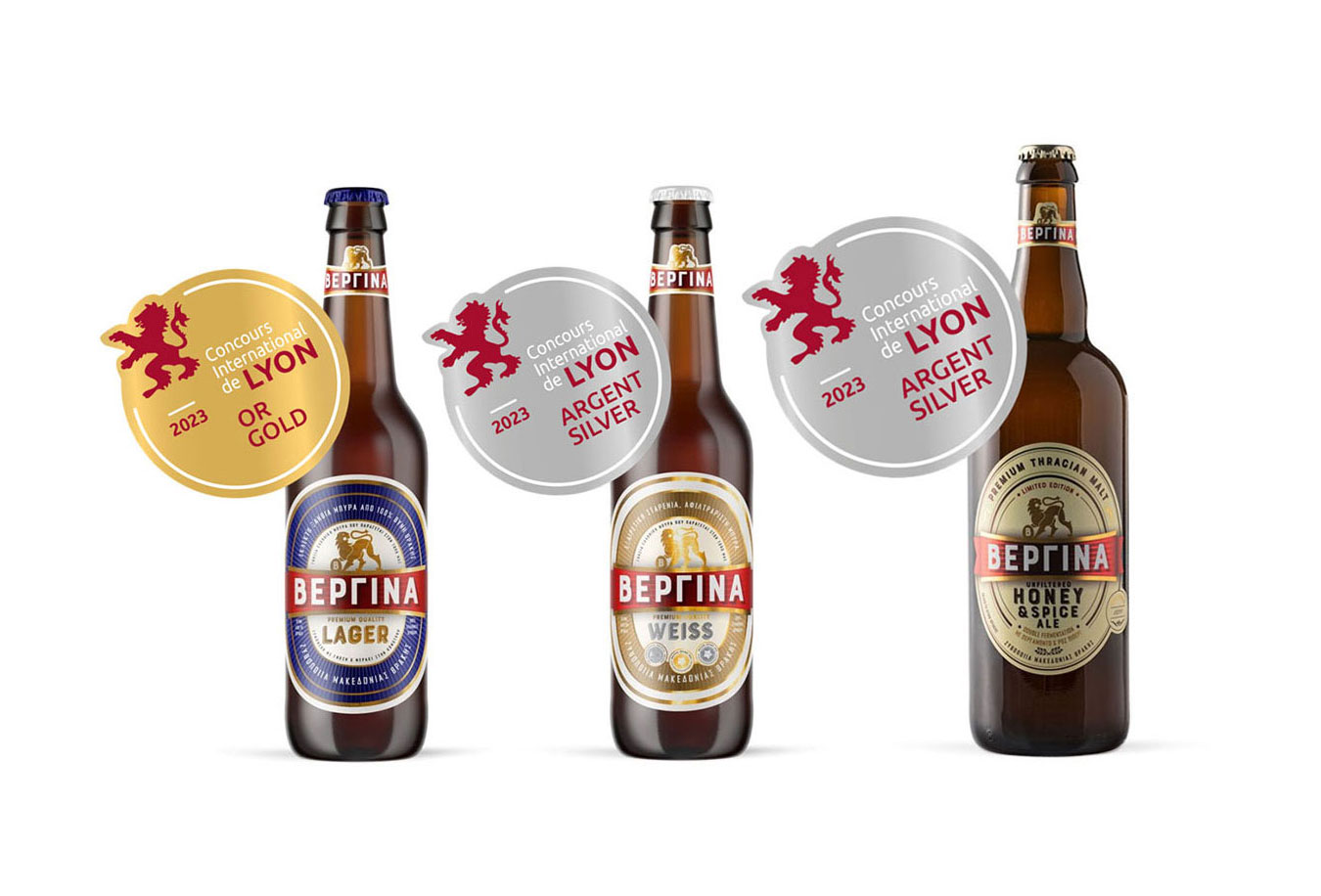 The competition was held as every year in Lyon, the "capital" of French gastronomy, while the nominations in the various beer categories this year exceeded 10,000 from a total of 43 countries.
Specifically, the Vergina beers that were distinguished this year in Lyon are:
-VERGINA Lager: the authentic Greek Premium Lager from 100% Thrace Malt and fine raw materials, won the Gold Award in the highly competitive Helles category.
-VERGINA Weiss: our most awarded beer, which is recognized as one of the best in the world in the Hefeweizen category, having won medals and distinctions in the largest international competitions, once again won the Silver Award in the category Wheat Beer-Weizenbier-Hefeweizen Hell.
-VERGINA Honey & Spice special edition: the unfiltered, unsterilized double-fermented Ale beer with honey, bergamot & pink pepper available in a limited number of bottles. It is a unique product of its kind, which has nothing to envy from the complex flavors of the Belgian school, won the Silver Award in the Specialty Beer category
Commenting on these new distinctions, Mr. Dimtsoudis, Brewmaster – Brewing Engineer in Macedonian Thrace Brewery, since 1997 said:
″I am proud that our beloved VERGINA beers once again honored our national colors, highlighting at the same time the unique added value that the independent Greek microbrewery sector gives to our country. The recognition in the context of international, highly prestigious competitions honors all our colleagues and partners without exception, and especially the contracted farmers of Macedonian Thrace Brewery, who have been supplying us with the best Greek barley for the creation of the fine "Thrace Malt" since 2006.
Finally, I would like to express, the biggest thanks to the loyal friends of VERGINA beer who have supported us with passion since the 90s, in our difficult first years where we found ourselves with our backs against the wall due to the known abusive behaviors, and I promise them that in the years to come we will give them even more reasons to always ask for #monoVergina."