Forbes' report in Vergina – Politopoulos in the letter to Mrs. Tsipras and Varoufakis (06/03/2015)
"Please refute all of us the doubters by turning your country into Hong Kong / Singapore / Switzerland of the Mediterranean as success will be your best revenge," concludes the letter of the editor-in-chief of Forbes magazine and chairman of the homonymous group Steve Forbes, to the Prime Minister Alexis Tsipras and Finance Minister Yannis Varoufakis ...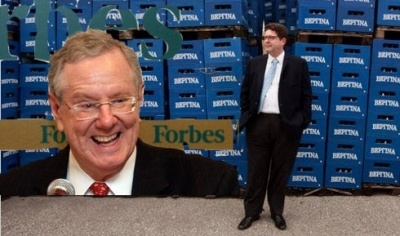 The Forbes letter, reproduced by almost all of the Greek press and media, also conceals an honorary report for Komotini and Thrace in general, since Mr. Forbes is an example of the Greek emigrants coming and investing in Greece. Dimitris Politopoulos and the Macedonia's Thrace Brewery – Vergina Beer, who gains Greek beer to all Greeks from Komotini's industrial area, having also export activity. While the products of TUVUNU SA, the "Mountain Tea", a purely Greek production, also go well.
Specifically, after Mr. Forbes reports to Prime Minister Alexis Tsipras and Finance Minister Yanis Varoufakis, the moves need to do to directly promote economic growth, "while giving you the invaluable political opportunity to tell the troika where to go" , points to the auspicious prospects of the expatriate Greeks' intention to invest in their country, if of course they are given the opportunity to do so.
"Stop driving the expatriate Greeks when they want to help investing in the country. The government should welcome such investors with the arms opened and not with suspicion. You also need to train your citizens not to regard them as unwanted and intruding" Mr. Forbes said.
And as an example of a Greek immigrant who has come to invest and pass through the blessing of Greek bureaucracy and not only, but eventually did it, says Dimitris Politopoulos, writing characteristically:
"In a book I wrote with Elizabeth Ames," How do dollar destruction threaten the global economy, and what can we do about it", we narrate the following joke: When the businessman Dimitris Politopoulos returned to his hometown Greece from the US to start a brewery, his products have been vandalized, torn off by cars, and he has received mocking and threatening letters. "
The corresponding passage in Mr Forbes' letter reads as follows:
"Stop trashing former Greek residents or those of Greek descent who want to help out by investing in Greece. The government should welcome such investors with open arms, not suspicion. Also, you should urge your own citizens not to regard them as unwelcome interlopers. In a book I coauthored with Elizabeth Ames, Money: How the Destruction of the Dollar Threatens the Global Economy – and What We Can Do About It, we recount this anecdote: "When entrepreneur Demetris Politopoulos returned to his native Greece from the U.S. to start a brewery, his products were vandalized, his tires were slashed, and he received taunts and threats."
It is important to note that the authors of the book are very lenient on this issue, because if you threaten and cheat them with hard work and with the help of your associates, it is difficult to overcome institutional and other issues, such as the long-running beer case still pending in the Competition Committee.
In any case, the Forbes' report in Vergina – Politopoulos honors the entrepreneur, but at the same time it is also an honor for Komotini, Thrace and more generally for the Greeks who have embraced the Greek beer Vergina and the effort of the people, employees and executives of Macedonia's Thrace Brewery.
It is worth noting that in addition to their daily return to quality and very low prices for Vergina and TUVUNU products, just a few days ago, Greek and foreign brewers had the opportunity to get to know one of Europe's most modern breweries, the first Greek brewery, in Komotini's industrial area and in particular Macedonian Thrace Brewery S.A..
Vergina has contributed greatly to the development of Microbrewery in our country and now gives to brewers, both inside and outside Greece, the ability to meet their needs in Greek malt, of excellent quality, from local barley through contract farming with local producers.
Source: http://www.alexpolisonline.com/2015/03/forbes-politopoulos-vergina.html#ixzz3uZXWmTWD
Alexandroupoli Online 6th of March 2015