VERGINA: New beer identity & release of Alcohol Free (14/07/2020)
With a new look, logo and packaging, the emblematic for the Greek brewery, VERGINA beer, makes its appearance, highlighting the high quality and the "premium" character of the brand.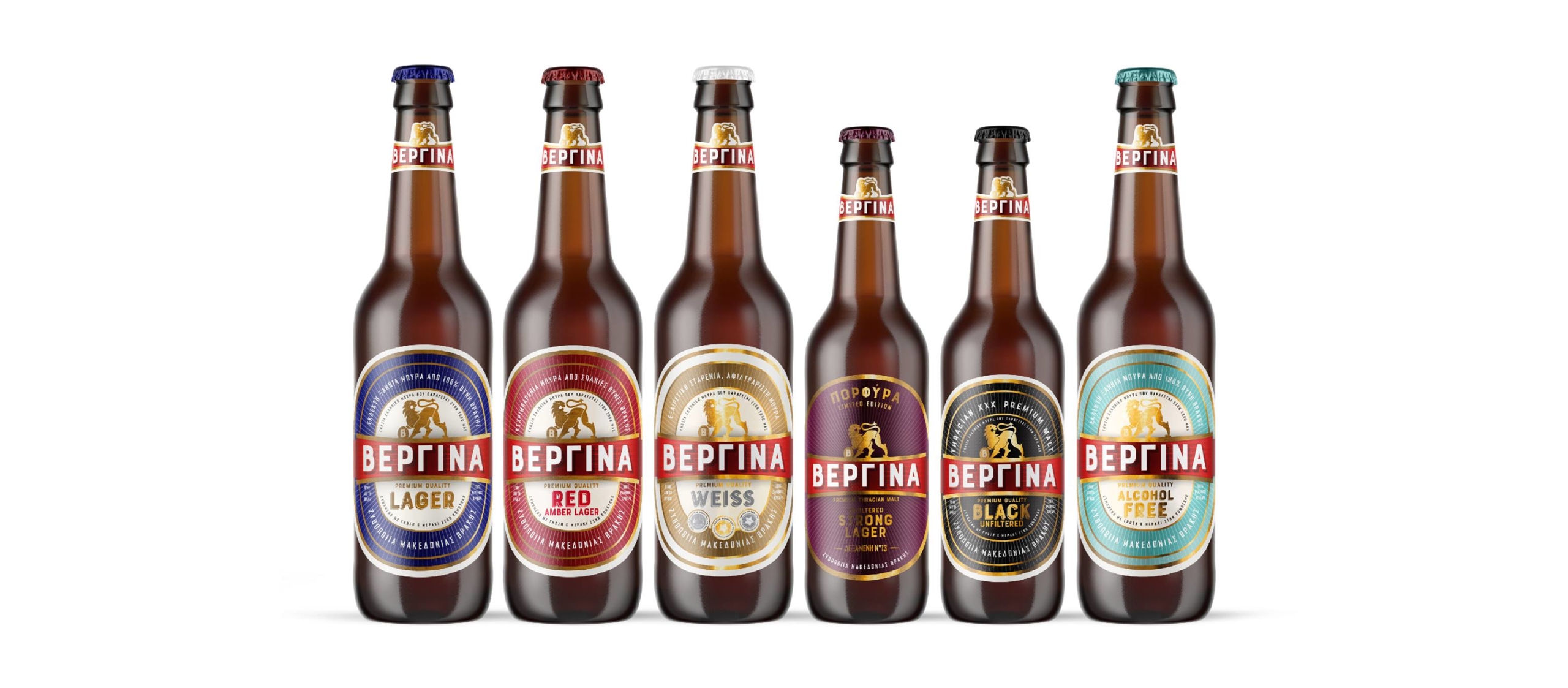 In the process of designing the labels, which was made by k2design, particular emphasis was placed on the distinct differentiation of the premium beer types of Macedonian Thrace Brewery's portfolio, as well as on the strengthening of the elements of a single corporate identity of our 6 different codes, so that VERGINA family can be identified at first sight.
The new logo becomes a key point in the organization of the label, with modern, minimal but, at the same time, solid writing, which contributes to the recognizability of our products. The depiction of the lion is emblematic acquiring the character of a "blazon", which is exactly what a beer that continues the ancient tradition in Greece's brewery, deserves.
Dominant in the new corporate identity, is the reference to Thracian Malt. It's the raw material, which is the "soul" of beer, and especially in VERGINA, finds its highest quality expression, thanks to the passion and know-how of its people.
The traditional values ​​of brewing, the origin from Thrace and the genuine craft character of VERGINA are combined with dynamic visual features in the new packaging, bringing an air of renewal and freshness to its look.
A new member joins the VERGINA family in the summer of 2020: The new VERGINA Alcohol Free charms with the unique color of its label and captivates with its taste. "Free" from alcohol (ALC. 0.4% vol.), thanks to its natural fermentation, it keeps the light and at the same time full-bodied taste of an authentic Lager. While it has features that make it irresistible, such as that it has only 25 calories /100ml and contains folic acid, the new VERGINA Alcohol Free has nothing to envy from the classic Lager!
Macedonian Thrace Brewery, the first Greek brewery to establish the concept Contractual Farming in Greece in 2006, with a paragon malting plant of high standards and a rich portfolio of VERGINA Lager, VERGINA Red, the award-winning VERGINA Weiss, VERGINA Black, VERGINA Porfyra and the new VERGINA Alcohol Free, opens a new chapter in its long course.