Vergina Weiss: the Greek beer from Thrace with the greatest international achievements (15/11/2018)
Press Release
Vergina Weiss: the Greek beer from Thrace with the greatest international achievements, Komotini the 15th of November 2018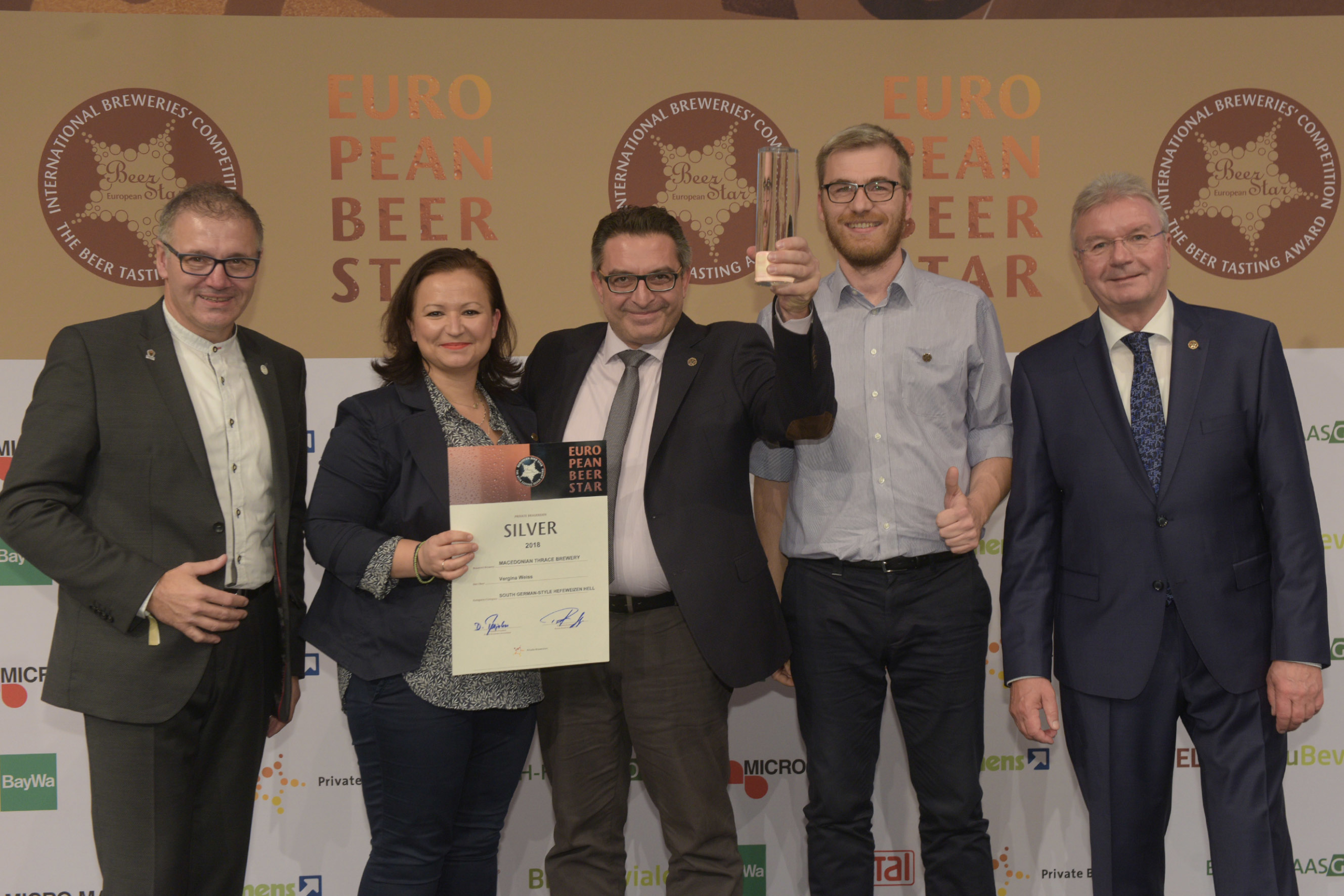 The great international achievements for Vergina Weiss and Macedonian Thrace Brewery continue, with the conquest of the Silver European Beer Star 2018.
Vergina Weiss was selected as one of the 3 best beers of the highly demanding Hefeweizen category, among hundreds of excellent entries from small and large breweries from all over the world, to the largest competition of its kind in Germany.
"It is a special honor for us this year's award for Vergina Weiss, as the love and the preference shown by Greek lovers for quality beer has once again brought us to the podium of one of the biggest international competitions in the world. On top of that, we feel justified by the fact that we started the "revolution" of the independent small breweries of Greece back in 1998″ said Mr. Christos Dimtsoudis, CEO of Macedonian Thrace Brewery, upon receiving the trophy in the Evening of the Winners held in Nuremberg on 14 November.
Mr. Dimtsoudis continued: "The international distinctions of Macedonian Thrace Brewery and other small, independent Greek breweries in our country proves that Greece does not need the funds or know-how of multinational giants to produce the best beers of the world."
Dr. Oliver Dawid, Director of Private Brauereien Bayern, said: "With the European Beer Star prize, we celebrate authentic beers from all over the world that adhere to the traditional principles of European brewing while combining top taste, high quality and special character ".
In this year's competition took place 2,344 beers from 51 countries and all continents. All participations were evaluated by a 144-member jury consisting of brewers, beer sommeliers and recognized industry specialists from 32 countries. It is important to add that the evaluation at the European Beer Star Awards takes place through the blind tasting process, where the judges do not see the labels of the beers they are trying. All participations are evaluated based on their color, aroma, taste, visual characteristics and general impression.
Macedonian Thrace Brewery, remaining faithful to the triptych of high quality, flavorful pleasure and independent course, that ensured the Silver European Beer Star Award 2018, dedicates all the awards and accomplishments to the Greek consumer.